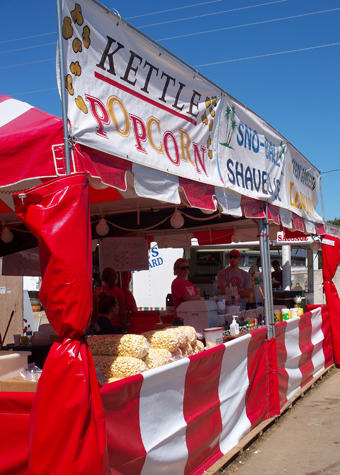 Our goal at Lorain County Fair is to have a wide variety of products and services available for our visitors.
We try to maintain a balance of the total number of vendors so that each vendor will have a high sales potential.  Of course, we are limited due to our own space restrictions.  Spots are not awarded on a first come, first serve basis since we consider the type of product or service when issuing contracts.

Space is sold by the week only, pricing as follows (no discounts for non-profits):
Inside Space: $325 for 10′ x 10′
Outdoor Space: $25/foot frontage

We sell outdoor space by frontage (minimum 10′ frontage) with a guaranteed depth of 10′.  We will try to accommodate requests for more depth, but you should get frontage to meet your minimum requirements with a 10′ depth.  
You may provide your own tent or rent from us at an additional cost, dependent on size (10′ x 10′ – $250; 10′ x 20′ – $325; 12′ x 12′ – $300; 15′ x 15′ – $350,  15′ x 20′ – $400; 20′ x 20′ – $425, 16 x 25′ – $450; larger and other sizes available, call for pricing).  Tents are provided by a third party and put up the Tuesday and Wednesday prior to fair if weather permits.
Food Vendors:  pricing varies according to product sold and location of space.
Concession/Vendor
Information & Regulations
Fire Safety Inspection Guidelines
Contracts for existing customers will be sent the beginning of February and are due back March 15.  It is your responsibility to renew your space by March 15 of each year – not responsible for lost or misdirected mail.
We will accept applications for new vendors beginning February 1 until the start of fair for the current year.  For best availability, send your application by March 15, as that is when we start to fill open spots, but we will continue to accept applications until space is full.  If either indoor or outdoor space is full, it will be noted here – otherwise we have availability.  ALL BUILDINGS ARE FULL – INSIDE SPACE SOLD OUT! OUTSIDE SPACE:  THERE IS ONE 10′ FRONTAGE SPACE AVAILABLE – EVERYTHING ELSE IS SOLD.


BEGINNING JULY 14, ALL APPLICATIONS MUST BE PAID IN FULL.  PLEASE DO NOT SEND IN A VENDOR APPLICATION WITHOUT CALLING OR PUTTING CREDIT CARD INFORMATION ON THE APPLICATION.  APPLICATIONS WITHOUT PAYMENT WILL NOT BE PROCESSED.
Only requests made on this application will be considered.
Applications are accepted in person at the secretary's office or by sending via email or U.S. mail.  You may include any brochures, pictures, or other information regarding your business.  Waiting lists are not carried over from year to year.
If accepted, you will receive a contract by April 10 or within two weeks if sent after April 1.  If space is full, we will hold the application for possible cancellations.
If you have any specific questions, please call the office and ask to speak with Charisse.