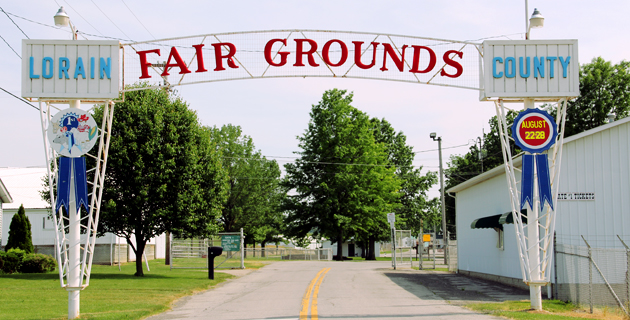 The Lorain County Fairgrounds is located off SR 18 in Wellington west of  SR 58 and SR 18 (downtown Wellington).  Click here for directions.

2023 KIDS' DAY FLYER
JOB APPLICATION –
TO APPLY TO WORK
ON THE FAIR EVENT STAFF
CLICK HERE!!
Complete application and email to
[email protected].
Do not need education and only
employment as it relates to
past fair experience.
LORAIN COUNTY AGRICULTURAL SOCIETY CODE OF CONDUCT
Lorain County Agricultural Society (LCAS) Code of Conduct states that all participants and attendees are expected to conduct themselves in an appropriate manner.
If any attendee directs any disrespectful, vulgar, threatening or abusive language, and/or obscene gesture or remarks towards any Lorain County Fair representative, Lorain County Junior Fair or Senior Fair Board member, and/or any Fair staff, the attendee will be in direct violation of the Lorain County Fair Code of Conduct. Any person in violation will face disciplinary actions as deemed by the LCAS Board.
Exhibitors and their families violating the Code of Conduct may forfeit premiums and/or may be banned from exhibiting for a period of time determined by the LCAS.
Anyone violating the Code of Conduct may be escorted from the grounds, may be subject to arrest and prosecution, and/or may be banned by the LCAS from the fairgrounds.
ALL SERVICE ANIMALS ARE PERMITTED.
PETS, COMFORT, AND EMOTIONAL
SUPPORT ANIMALS ARE PROHIBITED.

WEBSITE UPDATES
Information is updated each year as it becomes available.  Most information is updated in the month of May and is current by June 1.
FAIRGROUNDS MAP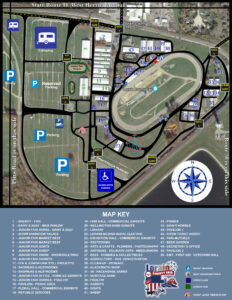 LORAIN COUNTY FAIR
T-SHIRTS AND SWEATSHIRTS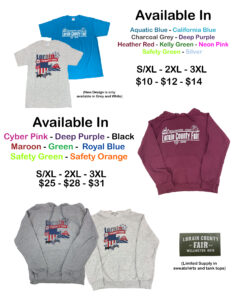 PROHIBITED ACTIVITIES
Protests, public demonstrations, confrontational or threatening conduct, fighting or inciting riot is strictly prohibited. No person shall engage in any activity that would jeopardize the safety and well-being of another person. Anyone initiating or participating in these activities shall be removed from the fairgrounds. There will be no refund of paid admission for anyone removed for violation of these rules. Violators of these rules may be banned from attending the fair for the remainder of the week. Violators may also be subject to arrest and prosecution as determined by police officers and sheriff deputies providing security for the fair.
NSF FEES / RETURNED CHECKS
Any checks returned as NSF, or for any other reason, will be assessed a $40 fee or 5%, whichever is greater.
2024 FAIR HOURS & PRICES
Fair Hours:  8:00 am – 11:00 pm
Gate Admission:  $8.00 8/19 – 8/25
Sunday, August 18 is our first day because of harness racing.  It is free gate admission – commercial vendors/rides/exhibits will not be set up.
Credit/Debit cards will be taken for gate admission at Gates 1, 3, 4, and 6 – windows will be marked specifically "Credit/Debit Cards" or "Cash Only" sales.  No checks taken at the gates.
Children 8 & Under: FREE
Senior Citizens (65+): 
FREE – All day Thursday
We currently do not have an option to rent scooters/ wheelchairs but are looking for a vendor for 2024.  If you know a vendor, send them our way!
Veterans & Military:
FREE – Thursday with proper ID
Parking: FREE

Season & Membership Passes:
$40.00 for 7 entries to the fair
       **a savings of $16.00**
For sale at Fair Office:
December 2023 – August 18, 2024

The ONLY difference between a Season and Membership Pass is the Membership Pass allows Lorain County residents age 21+ to vote for Directors and Constitutional changes.  Sale of Membership Passes ends Sunday, August 18 @ 6:00 pm.  Sale of Membership Passes is restricted to two – one to the person purchasing it and spouse in the same household.  
Membership and Season Passes can be purchased at the Fair Office on the fairgrounds or a Season Pass can be purchased by sending a self-addressed, stamped envelope with a check payable to "Lorain County Fair" no later than August 10.  Membership and Season Passes are non-refundable.

MIDWAY RIDES – 2024
We are excited to introduce McGinnis Amusements as our amusement ride provider!

Tickets: 24 for $20
Required tickets posted on each ride
$20.00 Unlimited Ride Wristbands:
Daily:  noon-10 p.m.
(rides closed from 5-6 p.m.)
$10.00 KIDS' DAY SPECIAL:
Wednesday:  noon – 5 p.m.